360° Virtual Tours for Preschools and Daycare Centers
360° Virtual Tours for Preschools and Daycare Centers
Peace of Mind for Parents. Excitement for Students.
With today's challenging times, a 360° virtual tour for you school is a must have. In-person tours are not always possible, but a 360° virtual tour is accessible 24/7/365.

A 360° virtual tour provides parents with confidence and peace of mind that their child will be safe and succeed at your school, while students will get excited to see your inviting learning environment and how much fun they will have on the playground.

LookBeforeYouBook.tours is here to help. We do 360° virtual tours differently…and better. We showcase not only how your school looks, but also how it feels to be there!

Utilizing 360° photography, we create an immersive, interactive virtual experience that parents and future students can enjoy, without ever leaving home.

Our virtual tours can be self- or staff-guided experiences, and have thoughtfully designed interfaces to help viewers easily navigate, explore, and learn about your school.
Virtual Tours with a Robust Feature Set
We understand every Preschool and Daycare Center is different. Our process helps us identify the most effective mix of tour features to ensure your virtual tour visitors have the best experience.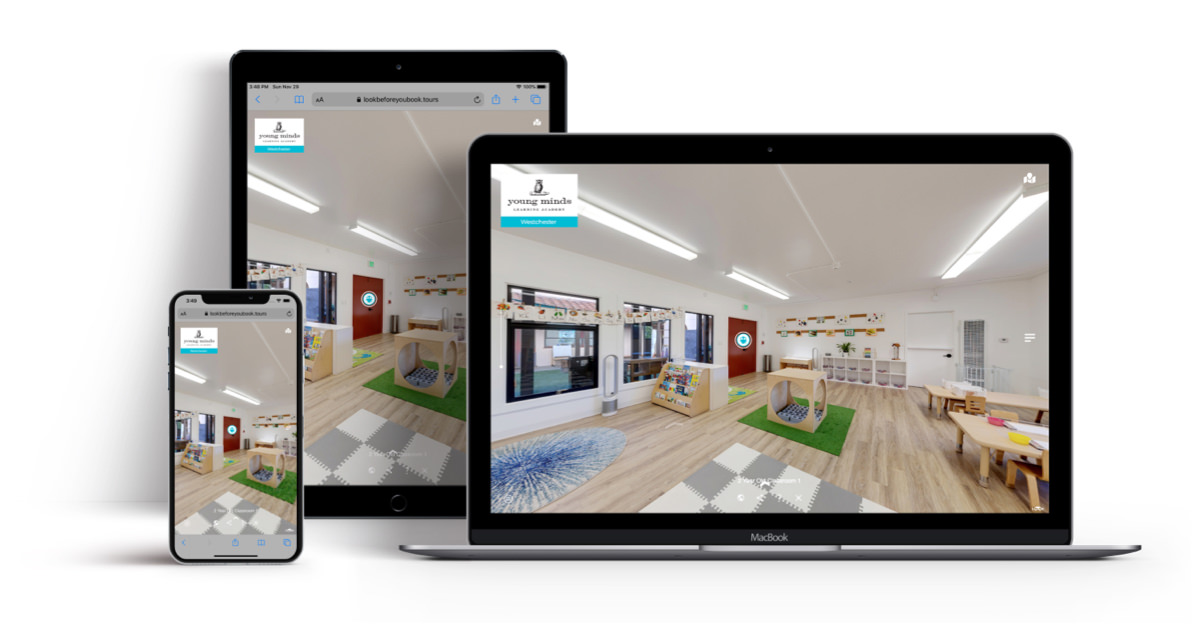 Our virtual tours are built to reach the widest audience. We create HTML5 tours to resolve on all platforms and devices whether Macintosh, Windows, iOS or Android, desktop, tablet or smartphone.
Hotspots navigation allows users to easily navigate through the tour. We can also include thumbnail photos of the room the hotspot links too.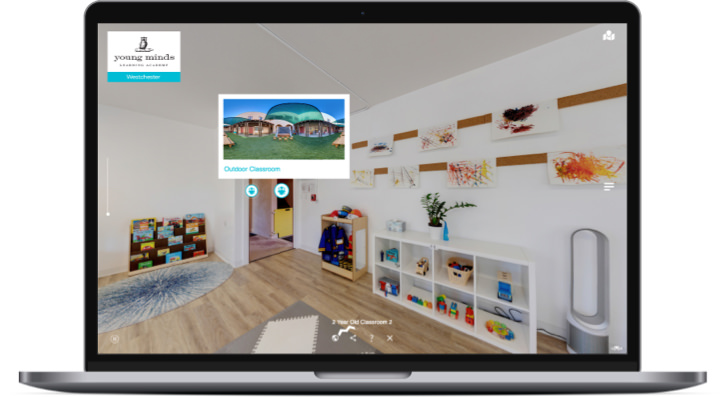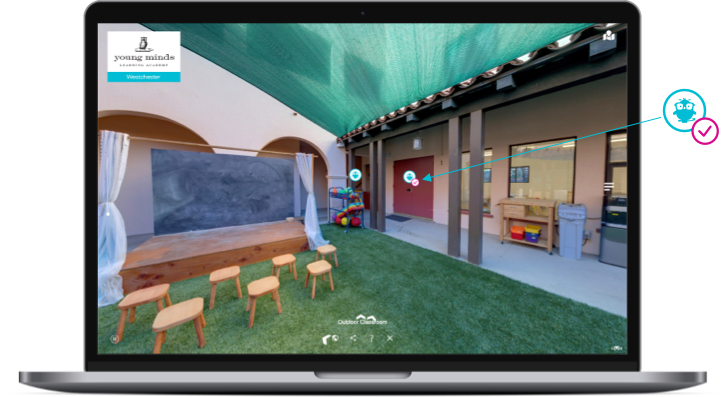 Visited Hotspots Indicator
To help users know what rooms they have viewed, we add a "check circle" to the hotspots once they have visited the room.
Thumbnail Photo Navigation
A thumbnail overlay window is included so users can see all rooms/areas at a glance and quickly switch to a specific room in the tour.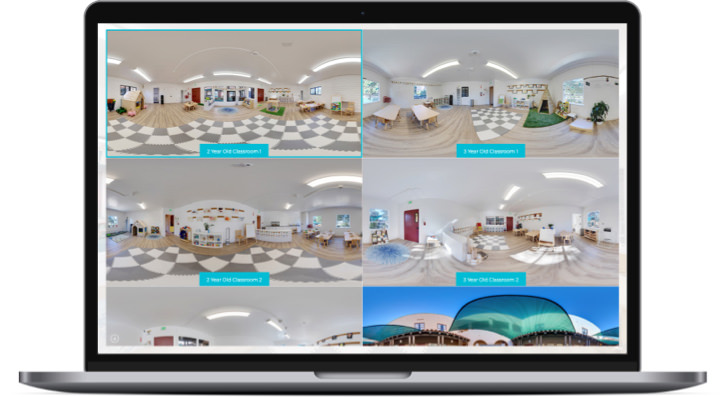 A Google map is built right into the virtual tour provide the viewer with the ability to see your exact location without having to open a new browser window.
Extend the use of your existing digital assets by adding photo galleries and videos to your tour. These can be strategically placed in the tour. Organize them by room/area or as a single overview of your school.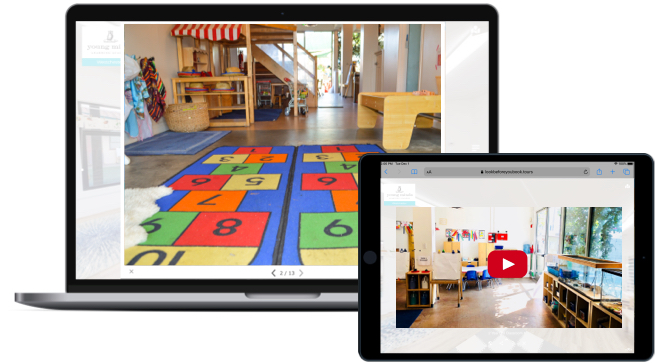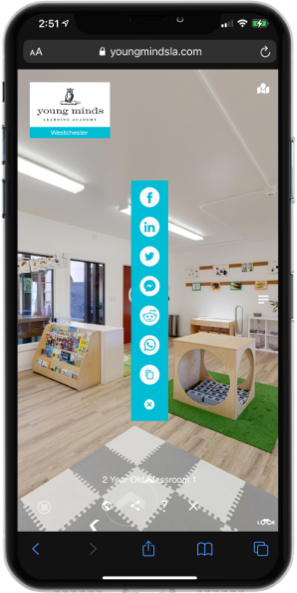 Maximize you exposure with our social share feature. Users can share the virtual tour on numerous social media platforms directly from the tour. We create a link to share that will start the tour on the exact scene and angle they are currently viewing.
Post Your 360°
Photos to Facebook
Drive traffic to your virtual tour and website by posting 360° photos from your virtual tour directly to Facebook.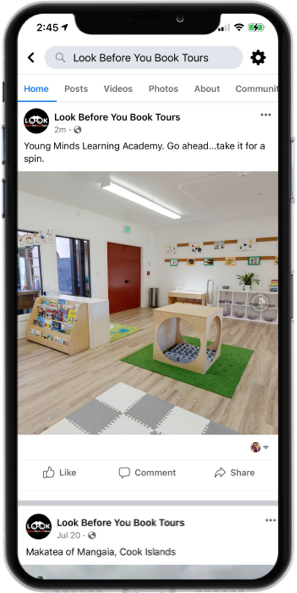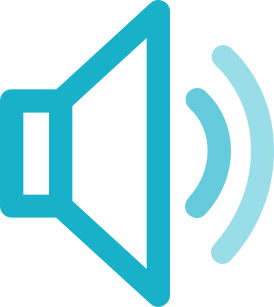 Ambient Audio and
Voiceover Narration
Use ambient background audio to enhance the user experience or include voiceover narration for scenes and specific items to create a guided tour for viewers.
Our tours are VR capable allowing your audience to experience your school in an even more immersive experience with a VR headset.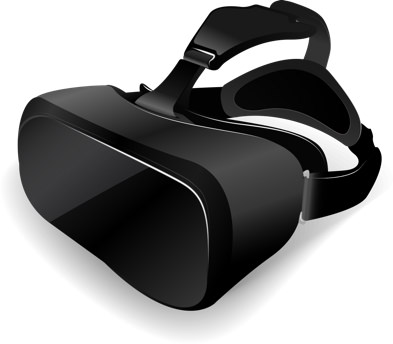 Google Analytics Integration
Learn what your visitors are most interested in. Adding your Google Analytics ID to your tour allows you to see what rooms/areas your in your tour gets the most views.
Google Street View Support
Increase your properties visibility and search results ranking on Google with our Google Street View feature. We can add select 360° photos from your virtual tour directly to Google Maps.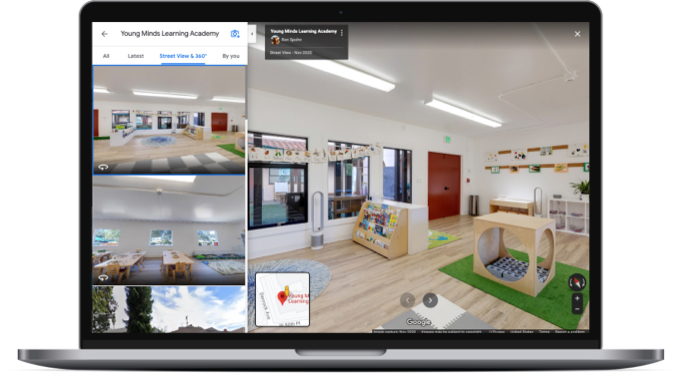 See for yourself. Take our Young Minds Learning Academy tour for a spin.
We'd be happy to host a Zoom call with you to learn about your goals and objects, and discuss how we can help you attract prospective new parents/students for your school.
Look Before You Book Tours
Redondo Beach, California
310.374.5993